Commercial construction costs hinge on two primary categories: materials and skilled labor. Therefore, when both are in short supply and more expensive, already small profit margins contract even further. To counteract rising costs, many CRE firms simply raise their prices—which could further negatively affect the industry.
First, there was Covid-19. Then came widespread labor shortages. Supply chain collapses saw rising commercial construction costs dig into profit margins worldwide. And now—to top it all off—there's inflation. Rising steel prices, peaking at nearly $2,000/ton have affected industries ranging from automobiles to commercial real estate. Inconsistent fluctuations in lumber prices have further kept CRE developers on edge, a trend continuing since the onset of Covid-19.
CRE employment figures provided an optimistic outlook at the end of 2021, and ought to hold steady through 2022. According to estimates, Associated Builders and Contractors (ABC) found that the industry had already recovered 86.5% of jobs lost since the pandemic's onset by November of last year. Unemployment in the construction industry also fell to 4%.
With reasons to be both cautious and confident in 2022, how can CRE developers curb commercial construction costs in the face of rising inflation?
How Inflation Has Impacted Commercial Construction Costs
Inflation levels currently sit at 7.5% as of January 2022. Unfortunately, experts believe those numbers could soar past 10% in the coming year as the Russo-Ukrainian crisis escalates in Eastern Europe.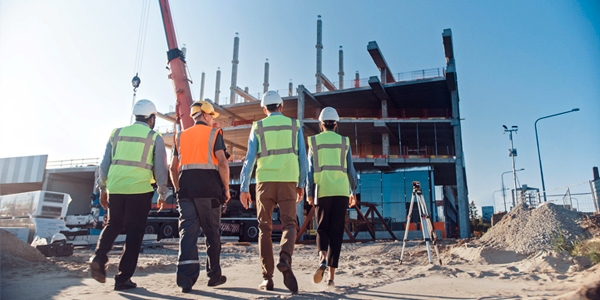 Long before the rise of such global issues, CRE developers already had enough rising prices, labor shortages, and supply chain woes to deal with on American soil! Fluctuating commercial construction costs can be traced back to several different factors, including the recent Omicron variant of Covid-19.
The Chinese government's mid-January measures to combat the rapidly-spreading Omicron variant caused much concern on further export disruption worldwide. Supply chain disruption leads to more shortages, which in turn leads to more inflation—an exacerbation of the global situation since the start of the pandemic.
The Bureau of Labor Statistics' Producer Price Index shows that the first waves of the pandemic drove prices for most construction materials to record highs. Lumber peaked at $1,500/1000 board feet in April and May of 2021. That price dropped through the summer, only to spike again in the autumn. By December, prices for U.S.-produced softwood lumber were 8.6% higher than the previous year. (However, those prices were 38% lower than the spring highs.)
December also saw iron and steel prices up 125% compared to the year before. Mills and factories that halted production at the onset of the pandemic were slow to ramp back up; labor shortages also played a significant role in the crawl back to normalcy. Additionally, rising fuel prices have spiked the cost of shipping and delivery. Ready-mix concrete saw a 7% year-over-year increase at the end of 2021. Gypsum products rose almost 20% during the same period, while paint and coating costs were also up 16.7%.
Commercial construction costs hinge on two primary categories: materials and skilled labor. Therefore, when both are in short supply and more expensive, already small profit margins contract even further. To counteract rising costs, many CRE firms simply raise their prices—which could further negatively affect industry.

But while warehousing demands are up on account of shipping disruptions; retail, office, hospitality, and entertainment are all down. It makes sense: those industries felt the full force of Covid shutdowns, leading to longer recovery times than other sectors. Businesses that closed their doors for good could lead to a surplus of unoccupied real estate. While demand for new buildings might fall, renovations and refurbishments could rise as new operations enter those old shells.
Some experts see the trend stabilizing through 2022, and possibly even reversing itself as the world emerges from pandemic-related setbacks. Henry D'Esposito, research manager for JLL, believes non-residential construction will return to month-over-month growth sometime in the next 12 months. He says, "Based on the latest data available for new project starts that have occurred this year, overall construction volume is expected to begin growing in the spring of 2022."
Ultimately, CRE developers can expect two persistent challenges through 2022. Continued delays in the global supply chain will lead to longer timetables for project completion. At the same time, the inflated price of most building materials will eat away at profitability. To combat these ongoing issues, CRE developers can turn to the following strategies to save on commercial construction costs.
Commercial Real Estate Development Considerations for 2022
CRE developers should work with a financial partner to establish their paths to profit in 2022. Inflation and ongoing supply chain woes will lead to higher costs; this is inevitable. But understanding other areas to save money is crucial to success in the coming year. Commercial industries should see significant bounce-back in 2022, leading to increased demand for CRE developments. Furthermore, adopting alternative operational strategies and technological advancements can offset rising commercial construction costs.
Optimistic Year of Non-Residential Construction Opens More Opportunities
Research accumulated by Dodge & Data Analytics (DDA) provides an optimistic view for non-residential construction growth through 2022. According to DDA, commercial construction starts, as a whole, were up 11% year-over-year in October 2021 compared to 2020. With those numbers in mind, private non-residential spending is on a trajectory to more than rebound from a previously estimated 5.8% decline, increasing by 2.8% in 2022.
Public-sector construction should also receive a healthy boost from the recently passed Infrastructure Investment and Jobs Act (IIJA), which will inject $550 billion into the market for roads, bridges, transit, and water infrastructure, among other projects. While a bulk of that spending probably will not happen until later in the year, it stands to boost public sector construction in the future.
All this said, experts believe 2022 should be a "very busy" year for CRE developers. Speaking on the IIJA, Anirban Basu, chief economist for Associated Builders and Contractors, touched on the differences between this cash investment and similar infusions from 2009. Ultimately, as with all GSA Federal Construction projects, Basu recommends companies "Think very long and hard before you enter into contractual obligations. Make sure you build enough margin and contingency."
Reports from PwC indicate the industry is well-poised to handle the coming year, even with persistent supply chain issues and labor shortages. The report also shows that merger and acquisitions (M&A) volume in 2021 outpaced previous levels across construction segments by 14%. Paired with Biden's Infrastructure bill, PwC projects further M&A in commercial construction.
With positive outlooks on the industry, what markets should CRE developers look into to counteract rising commercial construction costs?
As Covid wanes, new office construction projects should slowly emerge through 2022, even with current hybrid and remote workforce trends. However, CRE developers may want to look outside historically busy markets like New York City and San Francisco. Instead, emerging economies in Denver, Charlotte, Miami, and Austin may prove more attractive. These, among other Mountain West and Sun Belt cities, experienced substantial population and economic growth through the pandemic. Furthermore, retail development in these sectors is poised to grow as developers follow migrating populations to suburbs and secondary metros across the southern U.S.
Perhaps the most robust market heading into 2022 is commercial warehousing. Bolstered by exponential rises in e-commerce, demand for storage, distribution, fulfillment, and logistics centers continues to climb. Furthermore, ongoing supply chain issues force many suppliers to seek additional storage space.
Adapt New Operational Strategies to Offset the Rising Cost of Materials
CRE developers cannot combat inflation alone, and there is little they can do to influence the rising cost of materials directly. Whether those commercial construction costs continue to rise, plateau, or fall slightly, CRE developers must look to other operational strategies to offset expenses.
Seek Cuts Elsewhere
While CRE developers may be stuck paying inflated rates for raw materials, they can reduce costs in other project areas. For example, consider working with contractors to adjust labor rates, or perhaps reduce other fees to absorb material costs. These negotiations will require some back and forth between everyone involved with the project.
Prepare for Appraisal Discrepancies
One of the key problems arising for CRE developers as inflation rises is a misalignment of appraisal values and construction costs. Appraisals typically rely on historic sale and rent prices—they do not account for increased material costs. Banks only lend a percentage of an appraised value; it's not hard to imagine a scenario in which the appraisal value is far outpaced by the inflated cost of construction materials. CRE developers would do well to keep surplus cash on hand, just in case of any over-runs or appraisal shortfalls.
Consider Alternative Materials
When the cost of a particular material is too high, alternatives may be necessary. While these other options have experienced their own price hikes, they are less severe than those of more common materials like lumber and steel. Consult with a financial partner with industry insight to learn more about how the current price-points for construction material alternatives can positively impact your balance sheet.
If conventional steel and lumber prices push a project overbudget, CRE developers can consider pre-cast and ready-mix concrete, DensGlass, zip-board, and alternative wood species. For wood-framed projects, developers can limit waste by using prefabricated wall panels and framing systems. Such alternatives can also decrease labor costs and expedite the project timeline.
Contract Revisions
CRE developers may also save on commercial construction costs by examining some of the finer terminology laid out in their contracts. Consider stipulations that place limits on material cost increases, grandfathering them into an established price threshold for the length of the contract. Also, look into contracts that establish a guaranteed maximum price.
Consider Modular Construction
These innovative methods can relieve some of the cost burdens by streamlining the entire construction process. With modular construction, components are assembled off-site in a controlled environment and then delivered as completed pieces of the whole in the form of temporary or permanent modular construction.

When compared to building from the ground up, this option can afford a less expensive, faster build that's often easier on the environment. However, be sure to thoroughly review potential building restrictions and transportation issues before pursuing this option.
Maximize the Benefits of Pre-Construction
Before the ground is broken, the pre-construction planning phase plays a pivotal role in organizing the project. It is even more critical today than ever that all parties involved work together to:
Develop a deeper understanding of project-specific goals
Identify any potential interferences the project could face
Coordinate specific roles
Streamline project planning and eventual development
Determine exact materials needed to avoid waste
Altogether, laying the proverbial groundwork before ever breaking physical ground will maximize waste reduction.
Use Smart Technology to Increase Efficiency on Job Sites
As with every other sector, technological advancements have increased efficiency on the construction site. While investing in these advancements can come with frontloaded expenses, the time and money saved down the line should provide a positive return on the investment.
Augmented Reality
AR technology that creates a digital layer of information and visuals over an existing physical object can prove invaluable on the modern construction site. Workers can look through their mobile devices or tablet to gain additional information on a digital landscape. For instance, a device can quickly impose digital building plans on a plot as if they were physically in front of them giving blueprints a new life. This helps workers follow building plans with the utmost accuracy by providing real-time measurements.
Artificial Intelligence
No longer existing in the realm of science-fiction, robots can perform multiple tasks to cut back on labor expenses. For example, self-driving construction equipment can be put to work bricklaying, pouring concrete, and welding. Robots can even work alongside humans, carrying tools and other heavy equipment.
Drones
Drones are another element of construction technology that can alleviate costly burdens from the budget. For starters, they can map and survey large land areas quicker than any human. In fact, drone speed can cut down on surveying time and expenses by as much as 95%. Drones can also hover around the job site and keep track of misplaced equipment via GPS trackers.
Navigating the Next Steps for Your Business
Inflation and ongoing supply chain issues will continue to burden progress in 2022. However, CRE developers can rest assured knowing they have multiple avenues to combat these problems. Between alternative operating practices and adopting emerging technologies, CRE developers can mitigate the impact of rising commercial construction costs.

CRE developers can also consider working with a reliable financial partner to guide their business through these inflationary times. Get in touch with Rocky Mountain Bank to speak with a commercial banker with deep industry experience to learn more about the future of CRE development in 2022.