As the supply chain slowly pieces itself back together, logistics and trucking companies should continue seeing gradual demand increases, in the midst of a truck driver shortage. With an optimistic forecast for 2022, what does the future look like for logistics—and trucking in general?
While every industry was impacted by the effects of Covid-19, the challenges created by the existing truck driver shortage have been magnified. And unfortunately, the industry doesn't seem to be out of the woods yet.
Experts predict several ongoing factors will continue to play a pivotal role in the trucking industry through 2022. Economically, the industry must overcome hurdles such as record-high inflation, rising labor costs, and a booming eCommerce market driven by pandemic spending.
However, as demand for shipping increases with every Amazon order, the truck driver shortage (persistent since before the pandemic) continues to impact the bottom lines of shipping companies, buyers, and sellers alike.
While companies can control several economic factors, inflation is out of their hands. All one can do is buckle for the bumpy ride, charting a course through 2022 that ultimately leads to sustained profitability and growth despite economic challenges. Companies that can overcome inflation and the ongoing truck driver shortage are poised to capitalize on an ever-increasing demand for ground transportation.
Forecasts might label 2022 as another year with the same old transportation problems; however, with strategic cash management and trusted financial partners, it doesn't have to be.
The Impact of Inflation and Driver Shortages on the Trucking Industry
While inflation burdens many American businesses, the commercial trucking industry suffers outsized impact from the combined rising equipment, fuel, and labor costs.
The increased price of lumber, steel, aluminum, and polyethylene also further increases the cost of new equipment. According to research from Heavy Duty Trucking, what used to be a $30,000 trailer looks more like $38,000-$39,000 in 2022. Raw material aside, how else has inflation affected the trucking industry? What role has it played in the ongoing truck driver shortage?
According to an analysis of data accrued by FTR Intel, rising demand spiked spot trucking rates upwards of 24%, compared to January 2021. Furthermore, freight spot load postings increased almost 44% at the start of 2022. Even if you take fuel out of the equation, rates were up 18% year-over-year, along with rates for dry and refrigerated vans and flatbeds. FTR does predict slowing freight volumes through 2022—though they will remain elevated. However, inflationary pressures related to future supply chain hiccups and the ongoing Russo-Ukrainian crisis could prove unknown variables for the rest of the year, as it is still unclear how these events might further impact consumer demand. Regardless of what unfolds, the truck driver shortage and dwindling pandemic stimulus will most likely play influential roles.
Many industry leaders benefited from lower diesel prices during the deepest throes of the Covid-19 pandemic. These cheaper prices were generally attributed to less driving during lockdowns. However, the price for ultra-low-sulfur diesel (ULSD) has been steadily rising lately, now to levels even higher than before the pandemic. Prices ran at more than $2.36/gallon in early January—80 cents higher than levels just two years prior!
As energy prices continue to rise, cash flow and fuel management become increasingly pivotal pieces of any company's profit margin, and need to be integrated into your business strategy and accounted for in revenue projections.
Despite strong demand from trucking firms, orders for Class-8 trucks fell 55% at the end of 2021. While ongoing supply chain issues play a hand in production uncertainty, the continued semiconductor shortage exists at the heart of motor vehicle backlogs. Paccar Inc, a Class-8 truck manufacturer, said that even though they sold almost 33,000 new trucks in the third quarter, they could have sold 7,000 more were it not for the semiconductor shortage.
Class-8 trucks require far more computer chips, making them volatile to such shortages. Additionally, Tesla pushed the production of their electric Tesla-Semi back to 2023. Class-8 shortages have led large firms to use existing trucks beyond their typical trade-in cycles.
The trucking industry's beating heart is the driver. In the face of growing demand driven by booming e-commerce markets, the continued truck driver shortage has led to port backlogs, warehouse clutter, and delayed shipping times. However, the shortage is also nothing new.
Turnover rates have spiked since 2017, resulting from drivers changing employers in search of higher wages, improved benefits, and better scheduling. The American Trucking Association (ATA) estimates the industry is 80,000 drivers short, fueled by high turnover rates and Covid-19. Those shortages could reach 160,000 by 2030, should current strategies to attract and train new drivers fail.
The industry must recruit almost 1 million new drivers over the next decade to replace retirees and other vacancies. Transportation demand will only increase in direct correlation to the number of people turning to eCommerce for everyday shopping.
Large trucking firms aren't the only ones booming in demand thanks to blossoming eCommerce. The amount of light truck drivers needed between 2019 and 2029 is projected to increase by 6%. While short-haul companies compete with one another, they're also up against long-haul firms looking to capitalize on the need for drivers in general.
Add courier services, moving companies, and distributors into the mix, and you're looking at a very competitive talent environment for a limited number of available, qualified candidates.
Despite Truck Driver Shortages, Logistics and Trucking Companies Remain Positive as Demands Increase
According to the ATA, American truckers move, on average, 12 billion tons of freight across the country every year, accounting for three-quarters of all freight moved.
As the supply chain slowly pieces itself back together, logistics and trucking companies should continue seeing gradual demand increases, despite a truck driver shortage. With an optimistic forecast for 2022, what does the future look like for logistics—and trucking in general?
Despite supply chain problems and high wage costs, pure truckload yields have brought revenue growth and margin improvement five quarters straight. Less-than-truckload (LTL) have also seen strong yields. Currently, companies are better poised to turn profits, after cutting costs to survive the past two years.
American trucking firms must be ready to order new trucks, and prepare to pay a higher price for them—much more than ever before. In 2021, steel spiked to $1,400/ton, from only $500/ton in 2020. Rubber prices also saw similar hikes, from $2.91 to $5.18/pound. Even in the face of inflation, FTR predicts total Class-8 production will top 340,000 units in 2022, increasing to 350,000 in 2023.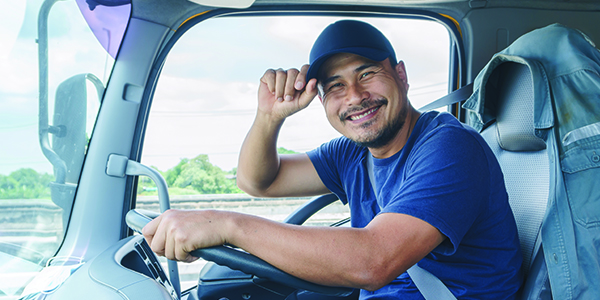 New Route Towards 2022: Trucking Business Strategies to Combat Truck Driver Shortages
With a hopefully brighter future looming in 2022, now is the time for trucking and logistics businesses to take a strategic look at their balance sheets. Proper cash-flow management for fuel, labor, and technology costs will prove crucial to securing profits in 2022, 2023, and onward. Amid the ongoing truck driver shortage, what strategies can trucking and logistics companies use to chart new routes through 2022?
Evaluate Your Fuel Buying Strategy to Save on Costs
With fuel making up 39% of total operational cost, reevaluating your fuel buying strategy can save money at the pump.
Managing these costs allows owners and fleet managers to make businesses more profitable. Although you can't necessarily control the price of gas, you can incorporate fuel-saving systems and protocols to curb fuel consumption. For example, reducing idle times, implementing speed control, and scheduling regular maintenance are a few ways to manage fuel consumption.
To build a robust fuel purchasing strategy, consider all the variables. Looking at dollars spent vs. tonnage moved might paint a false picture of total fuel consumption. For example, you might spend less on fuel in May, but more in April. However, May's lower fuel expenses could be due to a lack of overall mileage during a slower month. Comparing fuel consumption to overall revenue is vital in determining whether or not fuel efficiency strategies work as intended.
Tracking fuel costs in revenue percentages is a more efficient method way to analyze your buying strategy. These metrics can determine whether your fuel costs increase or decrease compared to earned revenue. One of the easiest ways to track these expenditures is to have your bookkeeper convert dollar amounts to percentages of total revenue. For example, if you brought in $200,000 in revenue but spent $50,000 on fuel, your total fuel cost is 25% of your total revenue.
These percentage changes are more manageable to track when compared over several weeks or months at a time. Percentages also better account for intangibles (like driver habits and equipment conditions) than basic dollar amounts can.
Fuel prices and associated taxes vary from state to state. Shipping companies can chart predetermined fueling stations along specific routes to ensure trucks refill in the cheapest states possible.
Thankfully, your smartphone (and your driver's smartphone) can find the most affordable stations for them.
Invest In Data Analytics to Gain Competitive Advantage
New and emerging technologies play a significant role in every industry.
The same proves true for trucking, as data analytics help businesses become more efficient and sustainable. Efficiency, speed, and communication offer three avenues to combat the truck driver shortage and increase profits in this operating environment. Advanced data analytics support all three.
Data gives customers full supply chain visibility at every step. Not only can they track their shipments; they can also get real-time text and email alerts notifying them of delays. Furthermore, they'll know when their shipments are within the mile, allowing facility or retail managers to avoid any surprises. The faster the truck unloads, the faster it's back on the road.
Thanks to new Internet of Things (IoT) sensors installed in trailers, drivers and dispatchers can monitor essential factors like temperature, movement, and humidity in real-time. If an issue arises, you can take necessary action before it becomes a problem.
Finally, shipping companies can utilize fleet management systems to gather crucial data on transportation efficiency. This allows the business to reduce idle times while bolstering factors such as fuel efficiency. By keeping constant tabs on every vehicle in the fleet, a robust management system knows how long they've been on the road, where they're going, and which route is the most fuel-efficient.
Attract Millennial Truck Drivers to Build Your Fleet
Amassing a fleet of young truck drivers can combat the truck driver shortage by reducing retirement turnover. Companies setting their sights on millennial and Gen Z drivers must alter their recruitment strategies if they want to fill those open seats.
Increase Digital Marketing Spending
Utilize tools such as social media can reach these younger generations. Build a unique brand online and create content with links to your job listings. Instagram, TikTok, Facebook, Youtube, and LinkedIn can be great places to start.
Focus on content marketing topics that share why younger people should be interested in truck driving and the benefits that come with the job. Sieze opportunities to debunk any preconceived negative notions Gen Z and millennials may have about becoming a driver. Once you've engaged them, streamline the application process to garner more candidates. In the age of instant gratification, a complex application process may quickly cost you potential hires.
Focus On Flexibility
Make sure you promoting a healthy work/life balance, along with wellness initiatives and benefits, to meet the expectations of today's workers. Be open to crafting schedules that work with their lives, not the other way around. Companies demonstrating flexibility and responsiveness to the needs of their drivers will stand out to younger candidates looking for work.
Younger candidates are also looking for competitive benefits packages as much as (if not more) than competitive compensation. Wellness initiatives outside of standard healthcare benefits create a culture that cares about drivers' health and wellbeing. While the truck driver shortage may get worse in the coming years, securing a fleet of young, loyal drivers can keep your company one step ahead of the competition.
Moving Forward
Inflation and a stubbornly persistent truck driver shortage complicate many trucking operations, even as the supply chain shows positive signs of recovery.
To shield a business from inflation, trucking companies must leverage the demand for their services. They can do so by reevaluating their fuel buying strategies and investing in data analytics tools to integrate data-driven decisioning into their day-to-day operations.
Leaning into digital advertising to reach newer, younger labor markets, such as Millennials who may be looking for a career shift in the wake of the so-called Great Resignation can also incur huge benefits.
Financial partners that have deep industry expertise can help you plan for necessary investment and cash-flow management. For reliable help navigating the challenges of the times, get in touch with Rocky Mountain Bank, a division of HTLF Bank to speak with a commercial banker today.